TTMS0012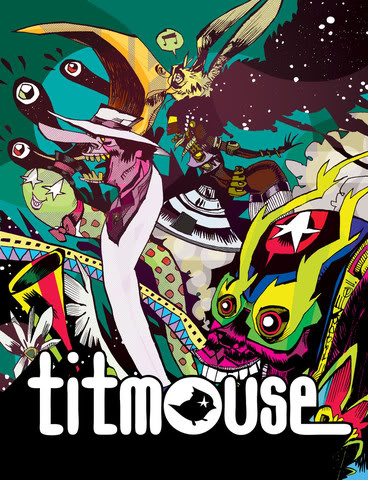 Title:
Titmouse Mook Volume 2
Description:
Coming at yah like a train full of custard, Titmouse Inc. releases "Mook Vol 2." The animation studio behind the Adult Swim hit series Metalocalypse, Superjail!, China, IL, Black Dynamite; Disney's MotorCity; and a pile of other cartoony-type things, has created its second "Mook" anthology of art, comics, and interviews. Printed on fancy paper. Featuring words and pictures born from the brutal minds of classy artist-types.
Dave Johnson's "Flatulene" returns us to the world of sex appeal and gas-destruction; Metalocalypse director, Jon Schnepp, takes another peak into the realm of ultra-jerks; Travis Millard's "Street Bros" is back for another psychedelic trip through memory-stain; Randy Cunningham art director, Otto Tang, explores lips and pussies; Black Dynamite writer, Brian Ash, takes us through the eyeballs of legendary P. Funk visual artist Overton Loyd; while Richard "DIKO" Mather, Israel Sanchez, Matt Taylor, and other artists made things with their hands and brains for your primate eyeballs.
Conveniently named Mook Vol 2, the cover is twice as hard, the paper is twice as thick and the art is in double-full color.
Artists Featured in Mook Vol 2 include:
Jim Mahfood
Overton Lyod
Paul Harmon
Matt Taylor
Matt Danner
Dave Johnson
David C. Smith
Richard "DICKO" Mather
Gabe Swarr
Vassilis Gogzilas, DJ Kirkbride, & Adam P. Knave
Songgu Kwon
Israel Sanchez
Jon Schnepp
Otto Tang
Travis Millard