IMMD0013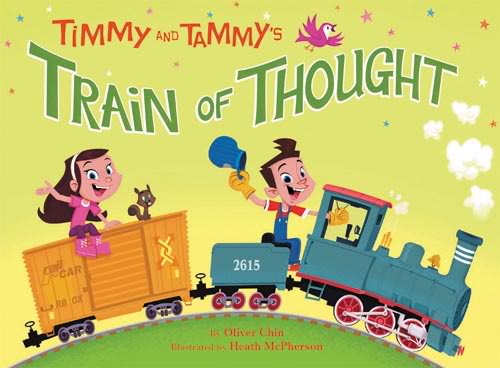 Title:
Timmy & Tammy's Train of Thought
Description:
Written by Oliver Chin and illustrated by Heath McPherson
All aboard with this joyful celebration of the railroad! Timmy and his sister Tammy love trains, so their parents treat them to the ride of their lives. Sitting on the smallest scale engine, the children begin a magical journey that transports them onto ever-larger locomotives and brings their ultimate fantasy to life.
Marvelously detailed illustrations will rivet readers by conveying the rhythm and energy of a seamless experience. Wonderfully engaging for repeat reading, this tale is ideal for introducing trains, colors, and sounds to young readers. Plus the surprising final destination makes this a perfect bedtime story and gift for train-lovers of all ages.
Hardcover, 36 pages