IMMD0011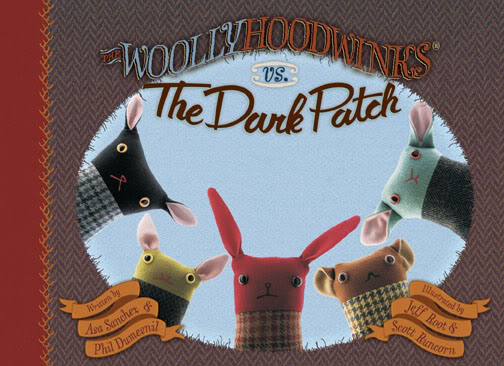 Title:
The Woollyhoodwinks vs. the Dark Patch
Description:
By Jeff Root, Scott Runcorn, Phil Dumesnil and Asa Sanchez
The Woollyhoodwinks are five cuddly creatures who enjoy life in the richly textured Black North Forest. Junco leads the imaginative Ludic, the prankster Reddy, the reasonable Ozard, and the cute baby named Fluke.
However, their carefree existence is interrupted when a piece of the sky falls to earth. There this dark patch begins to grow! As it spreads over the ground and disturbs the tranquility of their woodland home, the five friends take turns trying to solve this strange mystery. How will the naturally inventive 'Hoodwinks save the day?
True to the doll's original handcrafted designs, the illustrations ingeniously resemble landscapes stitched from colorfully patterned fabrics. The Woollyhoodwinks' amusing and eye-catching antics will appeal to the dreamer in everyone.
Hardcover, 36 Pages