BBCR0007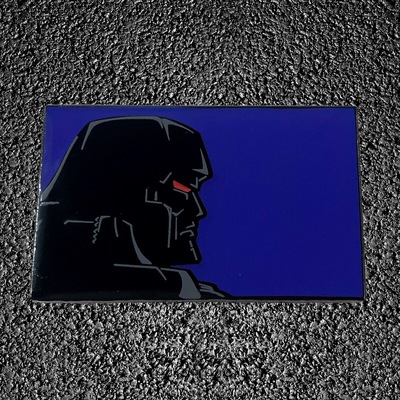 Description:
"YOUR KNOWLEDGE IS ONLY OVERSHADOWED BY YOUR STUPIDITY!" - MEGATRON
We all remember how Megatron's voice gave chills to millions of children across the world! That scratchy, malicious voice that wanted to destroy all of the autobots! BUT how cool were the Decepticons!? REAL COOL and pretty BADASS! Well now you can own the leader of the Decepticons as BB-CRE.8 expands the "SHIN" series and proudly present SHIN-MEGATRON!
Pin Specs:
- Black nickel plated SOFT enamel with EPOXY coating
- Glow in the Dark Pin
- Double clutch rubber backing
- ALL OF THE PURPLE and EYES GLOWS IN THE DARK!
- Approximately 1.4'' in width
- BB-CRE.8 backstamp logo
- Laser Etched 1-100
- MORE THAN MEETS THE EYE AF!