ART10001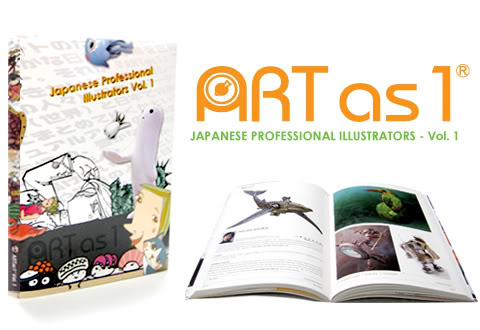 Title:
ARTas1® - Volume 1
Description:
Featuring 43 Professional Japanese Illustrators
Originally released in 2006, this Re-Release version has a new slip cover with a more exciting design than the original solid-orange cover. The new slip-cover provides a new ISBN with a lower retail price, making it more attainable (for students and everyone in this economy.)
ARTas1 is a "look book" of contemporary artwork from Japan. Each artist occupies 2 to 4 pages that feature some of their favorite recent works, a mini-bio, awards, clients, and e-mail contact information. Offering both up-and-coming artists and household name artists (in Japanese households) including: Hiroshi Watanabe, the namesake of color "Watanabe Blue" Tsuyoshi Nagano, painter of the Japanese Star Wars Novel covers, Norio Hikone, creator of unforgettable characters like Karl Ojisan (Uncle Carl) of Meiji's cheese curls, IMAITOONZ, co-creator of the cult Anime movie, "Dead Leaves"
...and 39 more artists.
Mediums include everything from traditional sumi, oil, acrylics & pastels to cutting edge 3DCG, found objects, sculpture, photography, weaving, and more. The wide range of styles and mediums makes this book an endless supply of inspiration & fun. It's printed in Japan by Toppan so the quality is superb.
150 pages, softcover, English, 10 x 7.2 x 0.8"