STVS0040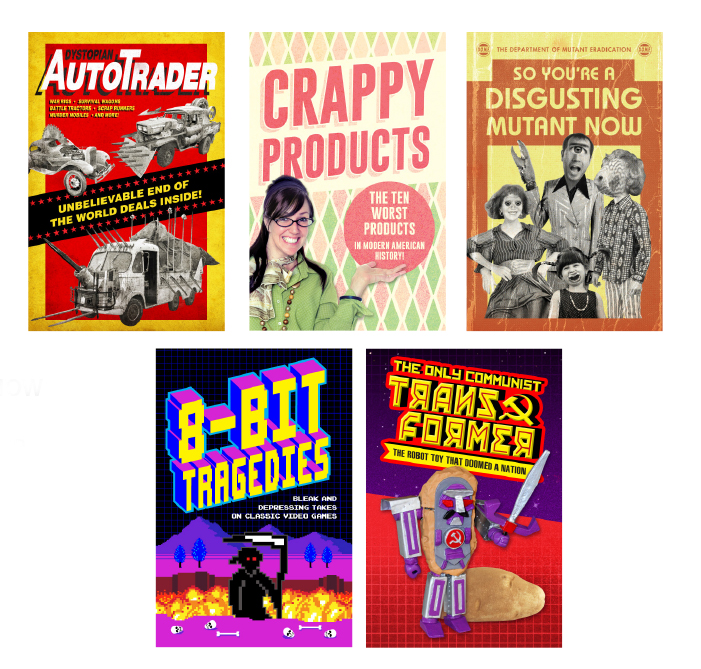 Title:
DQ Zine Variety Pack
Description:
5 Zines in a pack. This is a bundle of 4 packs, 20 zines total which retail individually for $5 EA.
Packs include a selection of 5 different humorous 5.25" x 8" zines:
DYSTOPIAN AUTO TRADER
12 pages • b/w
It was once easy to buy a quality used vehicle, but since the Fall of Civilization, that luxury is no more. Now the desert hellscape of Neo-Indiana is littered with marauders and Carjack Boys.
8-BIT TRAGEDIES
20 pages • color
This pixellated zine shares grim parodies of your favorite old school video games. Darkly humorous or depressingly bleak... You decide!
SO YOU'RE A DISGUSTING MUTANT NOW
12 pages • b/w
Your new life as a mutant will be an arduous one. Fortunately, the government has a solution to help. Read all about it in this handy pamphlet produced by the Department of Mutant Eradication.
CRAPPY PRODUCTS
12 pages • color
Learn of the 10 crappiest products to ever hit the market including Snot Safe, the Lady Fez, and the Coal Powered Car!
THE ONLY COMMUNIST TRANSFORMER
12 pages + insert booklet • color
By the 1980s, the leaders of the Soviet Union knew they were falling behind the West. In order to make-up ground, they produced a robot propaganda toy modeled after the wildly popular Transformers.